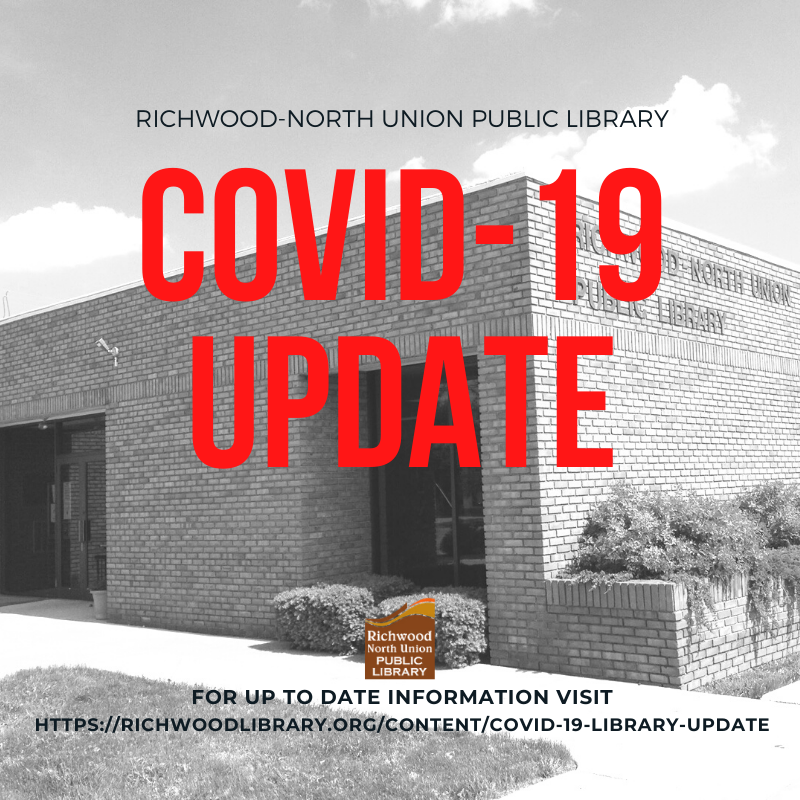 Updated: 4/30/2020- Closure Extended, Grab & Go Service Introduced 
The health and safety of our patrons and staff continues to be our top priority. The Richwood Library is currently developing a responsible plan to restart library operations. The library will reopen in phases based on guidelines provided by the Centers for Disease Control and directives given by Ohio Governor Mike DeWine.
As the first phase of reopening, the Richwood Library will be offering a contactless Grab & Go option for materials placed on hold by library patrons. This service will start on Tuesday, May 12. At that time, we will also accept returns. All procedures, safety protocols, and sanitation guidelines given by local authorities will be carefully enforced. It is our hope that this service will be both safe and beneficial to our community. Further details to be announced. 
While we are excited to add the Grab & Go service, the building will remain closed to the public until further notice. Meeting Room reservations have been canceled through the month of June. All programs will be virtual until it is safe to gather together in the building once again. While our doors remain closed, please remember that our digital resources are available 24/7. Libby and Hoopla provide access to countless e-books, audiobooks, movies, music, and more all from home. In addition, we hope that you will continue to visit our website and social media accounts to interact with us and attend our online programs. If you have any questions or concerns, library staff is available at reference@richwoodlibrary.org and would be happy to assist you. 
Please note that the situation with the COVID-19 is evolving daily. We will continue to evaluate the situation and provide updates as decisions are made. Thank you for your continued cooperation and understanding! 
Trusted Information Sources
Sharing accurate information from trusted sources is critical to reduce misinformation. Find reliable and current information about the outbreak from local and national agencies below.  
Ohio Department of Health
The Ohio Department of Health maintains a website with the up-to-date information on the outbreak, current risk to the public, and links to helpful resources.
https://odh.ohio.gov/wps/portal/gov/odh/know-our-programs/Novel-Coronavirus
ODH has also set up a call center to address questions regarding COVID-19. It is open seven days a week from 9 a.m.-8 p.m. and can be reached at
1-833-4-ASK-ODH (1-833-427-5634)
.
Centers for Disease Control
The U.S. Centers for Disease Control (CDC) has set up a website with a range of information about the current risk to the public, symptoms to watch for, prevention, testing, and advice for schools, communities and businesses.
https://www.cdc.gov/coronavirus/2019-ncov/index.html