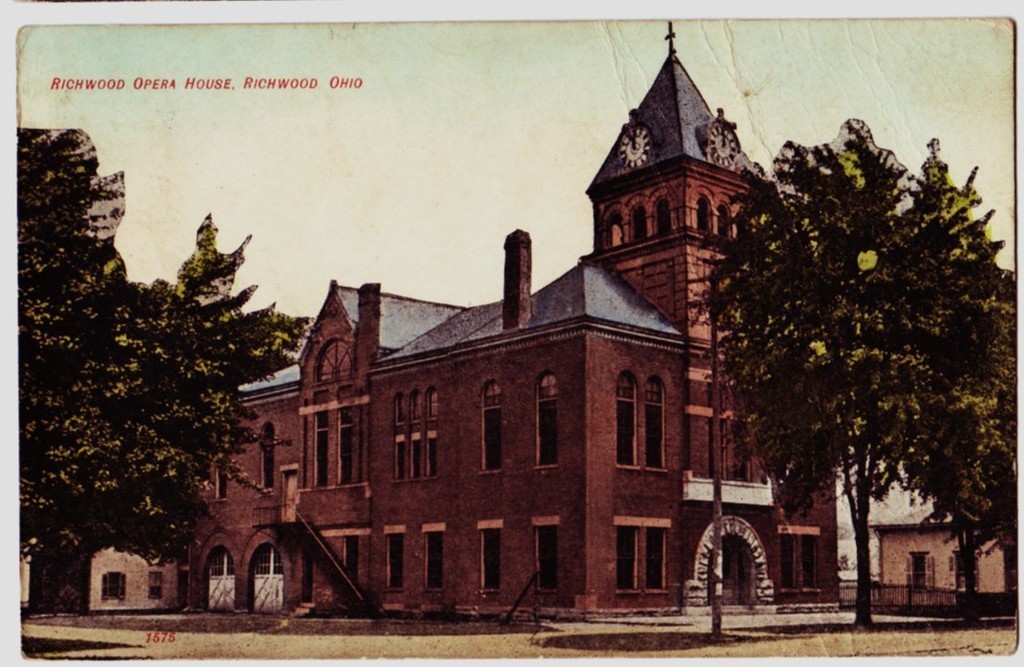 Richwood, Ohio was founded in 1832 by Mr. Phillip Plummer, his brother Thomas, who was a surveyor and John Flemming who was a nephew. They set out from Mt. Vernon, Knox County, Ohio, to go to the "rich woods," a tract of land that Mr. Plummer purchased in Claibourne township, Union County, Ohio, 15 miles north of Marysville. A shanty was built for temporary shelter while a house was prepared for Mr. Plummer's family to live in in the future. Plummer had determined that the town be called Richwood after the name of the tract which was so named because of the richness of its soil and the magnificent forest.
The first cabin was erected within the town plat and occupied by Dr. John P. Brookins and family. The cabin was a one-room building and was one story high with the logs scutched inside and out, clapboard roof and puncheon floor. There was an opening for one door without a screen and two windows without glass. A short time after Dr. Brookins moved in, Mr. Absalom Carney, a blacksmith, built himself a cabin on Main street. He was the second person in town. The next cabin was built by W.H. Frank, a 12 year old boy and his widowed mother. The boy lived with Mr. Baker Plummer, a brother of Phillip Plummer. When the boy turned 11, he went to live with Dr. John P. Brookins, with the recommendation of Baker Plummer.
The Doctor was a physician and druggist in Mt. Vernon. Frank lived with the Doctor and came with him to Richwood in 1832. The boy wanted to build a cabin for him and his mother. A man named Andrew, who lived 2 miles southwest of Richwood on Fulton Creek, helped him build the small cabin. In return, the boy offered the man his watch and pig that he received from Dr. Brookins when he was working at his drug store. The fourth cabin was built by Mr. Evans who engaged in shoe-making. He was the only businessman in town that brought any return for his wares. He sent shoe lasts (a shoe molding) to towns and cities, mostly to Dayton, Ohio. This was the first manufacturing establishment in Richwood.
Since its incorporation in 1835, Richwood has since grown to house many people and businesses. One of the oldest businesses is the Richwood Bank. In May 1876, The Bank of Richwood was established at 116 N. Franklin Street. Then, in 1906, the bank was incorporated with $35,000 and made its first name change to The Richwood Banking Company. In this year, the newly renamed bank also found a new location at the corner of North Franklin and East Blagrove, where it sits today.
Richwood houses over 2,000 people as of the 2010 census. The village remains a great place to live in Union County and it continues to grow.
More information about the founding of Richwood can be found in "A Voice From the Past" by W.H. Frank which is available at the library and can be bought as a free eBook at any major eBook retailer.